Date & Time:
NOV 11, 2022 | 10:00 AM – 5:00 PM​
NOV 12, 2022 | 9:00 AM – 5:00 PM​
Location: Lower-level Lecture Hall | 485 Broadway, Cambridge, MA02138
Chinese Kinesthetic Forms Conference
Movement has a distinctively rich tradition in China. Chinese Kinesthetic Forms considers movement as an organizing principle across myriad media and cultural forms—from dance and music, to painting and calligraphy, to theater and martial arts.
The conference explores how movement, as both expression and object of perception, opens experiential dimensions, even beyond the corporeal. Coinciding with the presentation of installations from CAMLab's Cave Dance project, the conference joins fresh conversations on dance, kinesthetics, and China's long history of performance, and it seeks to further understanding of movement as a way of defining experience.
This conference is organized by Harvard FAS CAMLab, with support from the Department of History of Art and Architecture.
Date & Time:
NOV 11, 2022 | 10:00 AM – 5:00 PM​
NOV 12, 2022 | 9:00 AM – 5:00 PM​
Location: Lower-level Lecture Hall | 485 Broadway, Cambridge, MA02138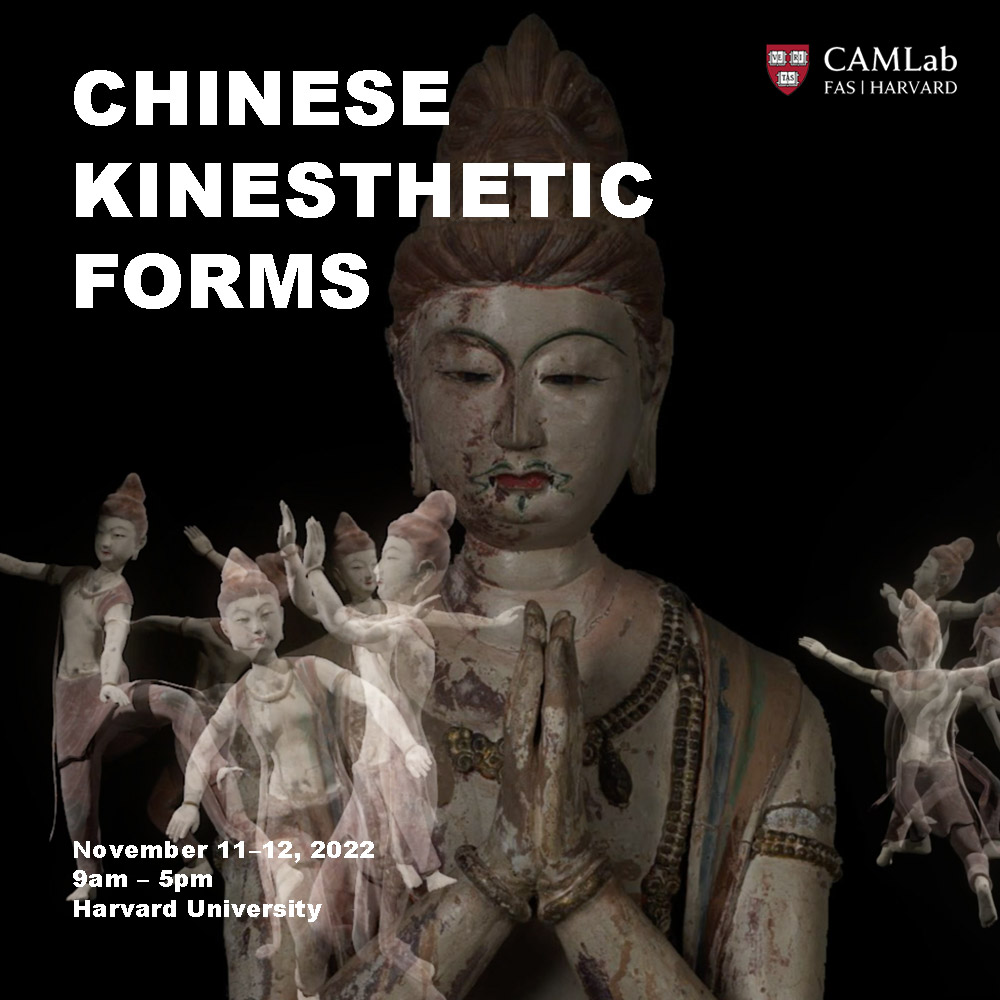 Conference Schedule
Friday, November 11
10:00–11:00 AM Opening Remarks and Keynote
"When and How Did Art Become Art? Crane Dances in Chinese Imagination," Eugene Wang, Harvard University
11:00–12:30 PM The Lightness of Being: Sensorial Kinesthetics
"Flame and Fragrance: The Bodiless Body of Dancing Apsaras in Medieval Buddhist Art," Chenchen Lü, Harvard University
"Taking Flight: The Modern Art of the Apsaras in East Asia," Anne Feng, Boston University
Panel Discussant: Simone Levine, Harvard FAS CAMLab
Panel Chair: Alice Tseng, Boston University
1:00–3:00 PM Sword Dance: Three Readings of Lady Gongsun
"Where the Feet Touch the Ground," Stephen Owen, Harvard University
"The Phantom of the Dance," Xiaofei Tian, Harvard University
"Sharp Turns, Indirect Transmission, and the Unity of the Arts," Lucas Bender, Yale University
Panel Discussant: Wai-yee Li, Harvard University
Panel Chair: Michael Szonyi, Harvard University
3:30–5:00 PM Reviving Repertoire: Dunhuang Dance, Then and Now
"How to Get From Dance Scores to Murals?: Bridging Representations of Tang Dance Events," Muyun Zhou, Pennsylvania State University
"From Wall to Stage: Flowers and Rain on the Silk Road (1979) and the Making of Contemporary Dunhuang Dance," Emily Wilcox, College of William & Mary
Panel Discussant: Thomas Kelly, Harvard University
Panel Chair: Rowan Flad, Harvard University
Saturday, November 12
9:00–11:00 AM Furor and Festivity: The Song-Yuan Turn
"No More Fear: How Did the Southern Song Nuo Exorcists Cope with Pandemics?" Huiping Pang, Hangzhou Normal University
Discussant: Heping Liu, Wellesley College
"Tage (Stomping Songs): Images of Rural Festive Dancing in Chinese Paintings," Wen-chien Cheng, Royal Ontario Museum
Discussant: Heping Liu, Wellesley College
"Demonic Divine: Reassessing 'Dance of the Sixteen Heavenly Devils' in the Mongol-Yuan Court," Xiaotian Yin, Harvard University
Discussant: Jinah Kim, Harvard University
Panel Chair: Leonard van der Kuijp, Harvard University
11:00 AM–12:30 PM Calligraphic Kinesthetics
"Martial Heroics in the Calligraphy and Painting of Xu Wei," Kathleen Ryor, Carleton College
"Like the Splash of a Great Whale Rising: Motion in the Criticism and Practice of 'Mad Cursive' Calligraphy," Amy McNair, University of Kansas
Panel Discussant: Aida Yuen Wong, Brandeis University
Panel Chair: Jeffrey Moser, Brown University
1:30–3:30 PM Kinesthetic Media
"Haptic Vision: Kinetic Architecture in Middle-Period China," Jeehee Hong, McGill University
Discussant: Aurelia Campbell, Boston College
"Dancing Pictures: Mei Lanfang's 'The Goddess Spreads Flowers' and the Inherent Ambiguity of Modernism," Catherine Yeh, Boston University
Discussant: Eugene Wang, Harvard University
"Recreating the Sword-dance, Reinventing Qiu Jin (1875–1907)," Hu Ying, University of California, Irvine
Discussant: Weihong Bao, University of California, Berkeley
Panel Chair: Christina Yu Yu, Museum of Fine Arts, Boston
4:00–5:00 PM From Immersion to Access: Lenora Lee Dance's Filmic Remediation
Lenora Lee, Lenora Lee Dance
SanSan Kwan, University of California, Berkeley
Moderator: Simone Levine, Harvard FAS CAMLab