About Us
We are Harvard FAS CAMLab.
Integrating humanistic inquiry with cutting-edge technology and design, CAMLab explores innovative, interdisciplinary ways of showcasing art and culture through immersive installations, exhibitions, films, digital publications, and other multimedia forms.
What We Do
CAMLab creates and curates multimedia storytelling.
CAMLab creates and curates forward-looking, experimental work that explores enduring questions of human consciousness. Using cutting-edge multimedia storytelling and multi-sensory technologies, we model cultural and historical experiences that engage and transport participants beyond the here and now, across the continuum of time and space.
Guiding modern audiences through these immersive, imaginative spaces, we enable them to discover and access forms of knowledge that are otherwise impossible.
Our Story
We combine humanistic inquiry with cutting-edge technology and design.
No two CAMLab projects are the same—but each is grounded in a process that incorporates both expansive research and groundbreaking creative practice.
In some instances, digital technology and sensorial techniques breathe new life into an archival record. In others, it's the archival record that lends form, substance, and nuance to projects that begin as aesthetic concepts.
CAMLab Cave
Public Visits
Located at 485 Broadway—just outside Harvard Yard—CAMLab Cave opened in the fall of 2022. It serves as a hub of innovative forms of knowledge production, pedagogy, and sensorial media practice. During Public Visits, Harvard FAS CAMLab welcomes audiences to explore immersive installations that stage cultural history with digital technologies.
September 22 – November 18, 2023 | Fridays & Saturdays | 12:00 – 6:00 pm
All are welcome. Reserving a ticket in advance is required; tickets are pay-as-you-want, with a suggested $10.00 for non-Harvard visitors. Proceeds directly support CAMLab's future research and projects.
View Accessibility Information ↗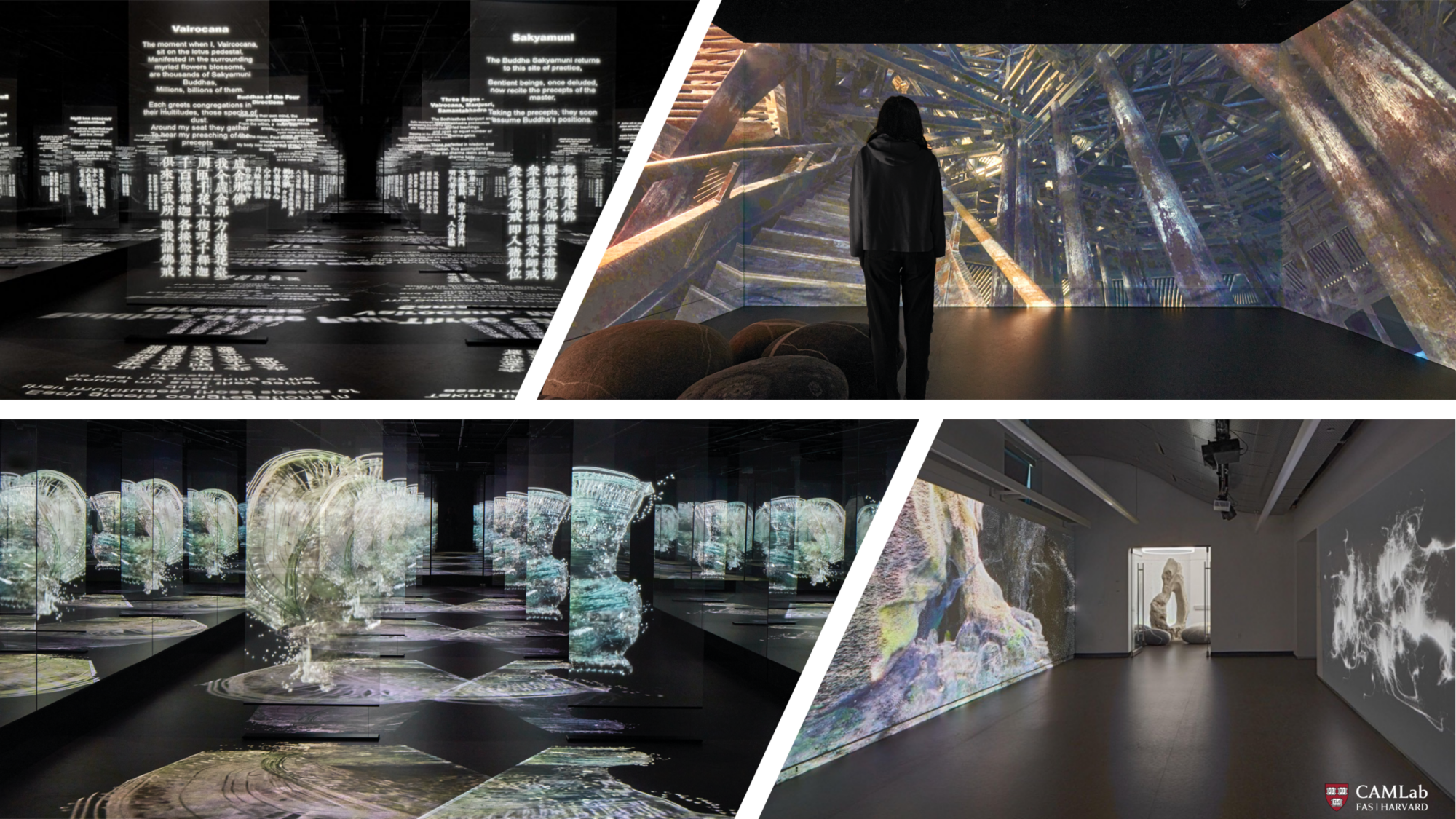 Founder Story
Eugene Y. Wang is the Abby Aldrich Rockefeller Professor of Asian Art at Harvard University. A Guggenheim Fellow (2005), he is the art history editor of the Encyclopedia of Buddhism (2004). His extensive publications range from early Chinese art and archeology to modern and contemporary Chinese art and cinema. His book, Shaping the Lotus Sutra: Buddhist Visual Culture in Medieval China (2005), explores Buddhist worldmaking; it received the Sakamoto Nichijin Academic Award from Japan. His current research focuses on cognitive study of art and consciousness as well as biocentric art that integrates visual, biological, and ecological systems.
He is also the founding director of Harvard FAS CAMLab that explores the nexus of cognition, aesthetics, and mindscape. The CAMLab projects he heads explores multimedia storyliving and immersive artistic-cum-spiritual experience, integrating humanistic research and sensorial media practice.
Executive Team
Icey Lin
Executive Producer
Assistant to Director
Core Team
Menglan Chen
Research Associate
Project Manager
Sophie Xiaofei Lei
Research Associate
Project Manager
Yiyi Liang
Fellow
Research Assistant
Muyun Zhou
Research Associate
Project Manager
CAMLab Associate and Visiting Scholar